Smashrun in Spain
If you want a happy ending, that depends, of course, on where you stop your story. –Orson Welles
After a year and three months at Virginia Beach, I find myself surrounded, once again, with a thoroughly packed suitcase, an overnight backpack, and about two week's worth of clothing. I took a quick inventory of what I consider "essentials" and noted two pairs of jeans and a pair of solid running shorts. For someone who runs everyday, I should really own more than one pair of shorts but, why mess with what works? It doesn't take much to wash it and dry it overnight, get going the next day.
I have to admit I miss having more clothes. Or even just a pair of flats that would go with something other than my jeans. Flip-flops get the job done but, not so much during winter. It's so liberating, though! The idea of living out of a backpack still appeals to me. The "not unpacking my suitcase until it's laundry day" reminds me of college. My bank account right now reminds me of college! Although, I'm still about to squeeze in one more stamp in my passport before that account hits zero. Really, what's the point of living if you're not actually "living"?
I thought the sound of Kansas City had a nice ring to it. Right alongside Google Fiber. That didn't really fly. Chris made a good point that if this is Smashrun's final stretch before that fork on the road, we might as well enjoy it … in another country. So, sometime in the end of August, I narrowed down our list of destinations to Panama City, Ecuador, Buenos Aires, Budapest, Munich, Madrid, and Singapore. I cross-referenced it against places with high-speed internet access, low-cost of living, culture, and cheap flights to find Smashrun's next HQ and we made our decision…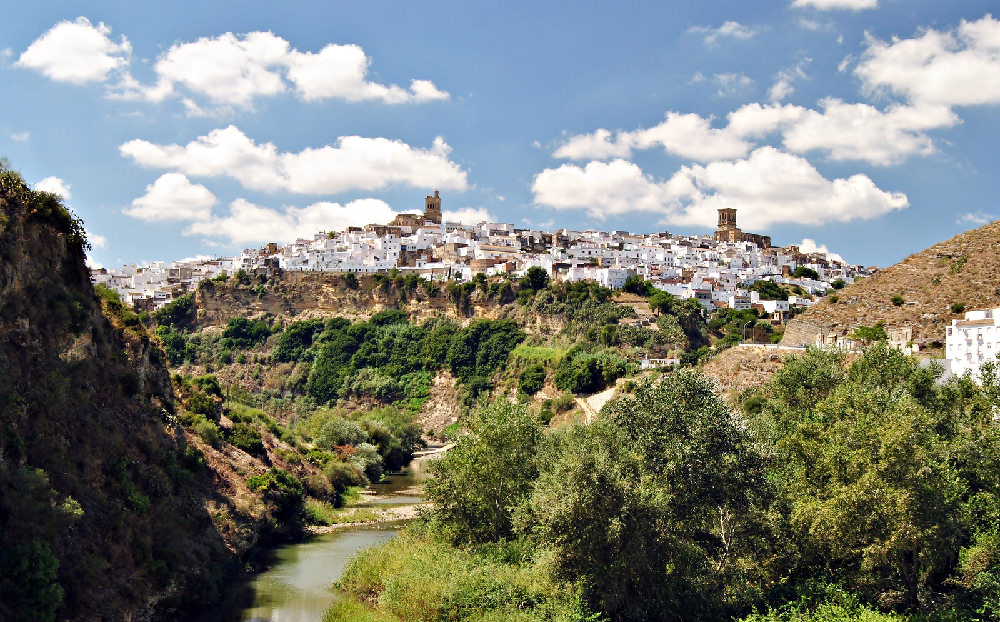 This is Arcos de la Frontera. We're gonna be there in 3 days. Here's a quick aerial tour:
[youtube=http://www.youtube.com/watch?v=cK4RmAbdLy8]
It's located about six hours south of Madrid, an hour south of Seville, an hour and a half north of Gibraltar and a reasonably short train ride away from crossing the border into Portugal. Rent is cheap, internet is comparable to where we are now, very few distractions, and the opportunity to see Chris practice a little spanish como la Andaluth just makes it all perfect.
Don't get me wrong, I like living by the beach (I'm a sun baby!) but I wouldn't mind staying in a small town on the countryside surrounded by olive groves and vineyards, eating jamón ibérico, and seafood caught off the Atlantic or the Balearic coast.
Of course, the running would be tough. I'd get lost in winding streets, probably get chased by sheep. Or cows. Maybe chickens. It'll be a perfectly good time! And those hills? Just think "thighs of steel". I'll be so ready for marathon season next year.
We're in a good spot, though. We have awesome runners using Smashrun! Just truly awesome people. They give us lots of good reasons to keep doing what we're doing. And, I know that sounds really corny but, I'm trying to be sincere here and usually when I try that, things come out super corny.
We have huge plans for Smashrun. I mean: monumental. We're venturing into some serious data crunching territory, beautiful maps, cross-run analytics, and new badges! I am dying for this release to go live. We're counting the days.
There will be another week or two more of long nights. A lot of testing. So much time will be spent comparing and contrasting data aggregates from different device sources and file exports from different apps. Working on something that requires so much attention to detail should sufficiently prepare me for the end of year tax season.
Let's do this.