Puerto Varas and the Llanquihue region
Puerto Varas – "a city of roses and volcanoes". This town is one of those places you're just meant to fall in love with. A city bounded by lakes and national parks, near grand canyons and waterfalls. There are signs everywhere hinting that you're at the gateway to Patagonia, and there's no shortage of stores for hiking gear. You could pick up everything here given the number of top brand stores for outdoor clothing and equipment: Patagonia, North Face, RKF, Columbia Sportswear – really, they're just missing a Kathmandu store. Just keep in mind that it's not cheap.
The town itself is a prototypical lakeside town.  Small, quaint, quiet. You should definitely visit Barista while you're here. It's hands down the best coffee, food, and service I've had so far in Chile. I've gone there three times in the four days I've been here. You should also visit Bravo Cabrera. They had a pretty damn good beer menu and it's cheap. Don't miss the pizza either – try the pizza carciofi for 4,800CLP. It'll make you happy.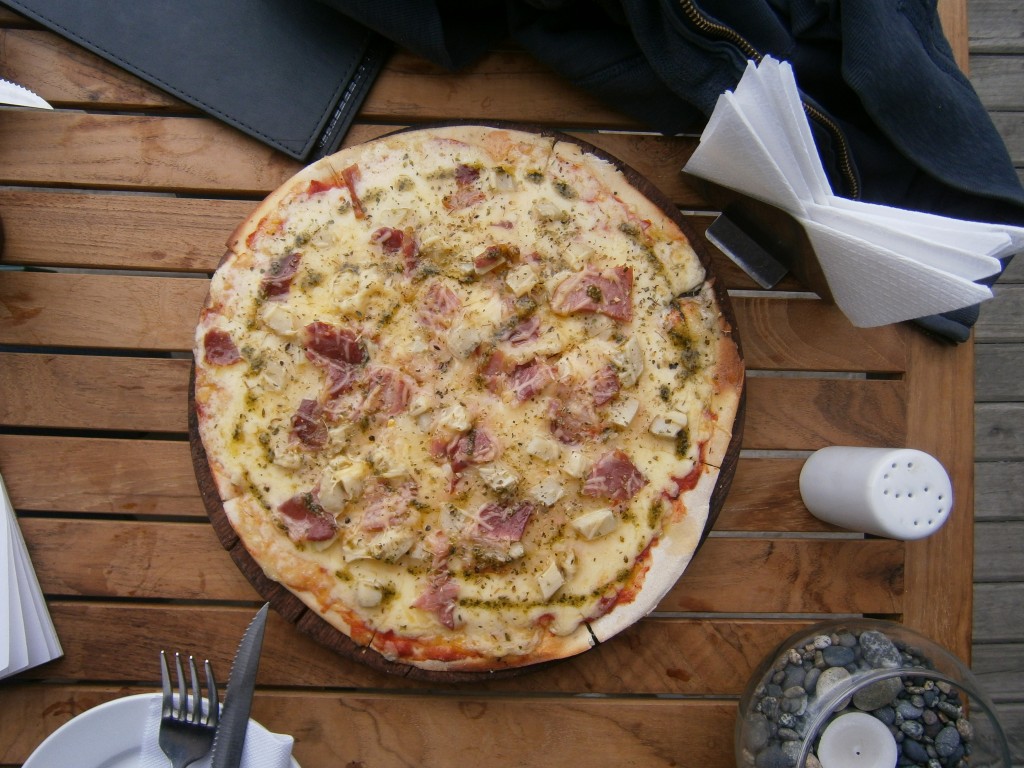 You can probably see most of the town on foot in a day. It's tiny. Most visitors stop by Museo Fierro where Puerto Varas is thoroughly documented by paintings, newspaper clippings, street artifacts, and an array of odds and ends. You might even luck out and meet Pablo Fierro himself!
You'll also find tour operators on every street advertising trips out to Saltos del Petrohué or Lagos de Todo Los Santos. Remember: a micro to most locations will cost you between 400-2,000CLP (80 cents-$4) and tour operators will charge you anywhere between 22,000-48,000CLP ($44-$96) to take you to the same places. The national parks are free – you can go to Saltos del Petrohué and Lagos de Todo Los Santos for less than $10. That's kind of amazing.
And now, for my rant: it might just be a crap idea to plan your hikes around January or early February. The area is notoriously well-known to entertain its fair share of tabanos. And, if you ask locals about them – everyone just sort of shrugs and acknowledges its existence. You ever watch the Survivorman episode when he went to the Australian Outback? Here's the transcript. Search for the keyword "flies" and you'll see what I mean. At least, those flies didn't bite. Tabanos in Petrohué? Oh, they do.
You get so preoccupied about keeping them off you that it's almost easy to forget the spectacular things that surround you.  They travel in packs and they don't let off. We dealt with them for at least 12km and, at one point, while walking by the beach where the wind turned stagnant, there must've been about 20 of them! And they're huge! Look!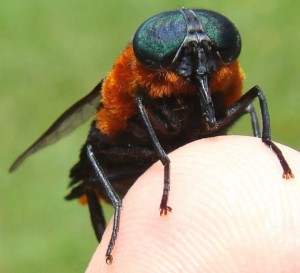 And so follows a series of photos with me trying to fight them off… haha.. I can't help but laugh now when I look at these. It really was that bad.
Such an incredible trail, but I hardly had any time to fully appreciate it.
Maybe it wasn't so bad. When the flies weren't making us so miserable, it was a good hike. Not a soul in sight. I'm sure, for a good reason. And if you're not into beating horseflies with your windbreaker (or spending an afternoon running away from them) – there's also Frutillar.
A short 30-minute micro ride north of Puerto Varas is an even smaller town. It felt like a New England town. The bus ride is 900CLP one-way, but you can also rent a mountain bike and do the trip along the shoreline from Puerto Varas – I hear it's awesome. We didn't take the chance with the bikes because it was on and off hard rain on the day that we went.
Tomorrow: we're thinking a lazy Sunday. Chill out before heading back to Santiago. I kind of miss my apartment. Mostly my terrace. I also have to think about this whole feeling old thing. Turning 26 on Sunday, the 5th. Oy. Life needs to slow down just a little bit more.