Mitja Barcelona Race Report
Last year, I signed up for the Mitja Barcelona but skipped it because I got sick. On a whim, I signed up for it again this year, somewhat half serious about actually running, but mostly wanting a short break from winter weather. I figured it's a flat and fast course, a short flight away, and an excuse to speak Spanish for a weekend! And after a long 2017 of not really trying hard to break any of my PR's, Barcelona felt like the right race to set the tone for 2018.
I ran the Lyon Semi in 1:50:46. I was going for a 2% improvement and targeting 1:48:34. Surprisingly, despite not really running that much through winter, but running a lot of intervals in the last 4 weeks leading up to the race, I ran Barcelona in 1:46:06. Much much faster than I intended.
The other surprise was that I ran fairly even splits in the first half and, although I slowed down quite a bit in the second half, even then, my splits were close.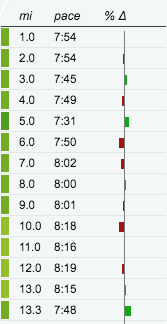 Ten days before the Barcelona Half, I'm fairly certain that I strained a calf muscle. It was bad. Bad enough that I walked the remaining distance home, because I couldn't finish my run that day. I rested it for two days and then went for another run. It actually hurt so much then that I was in tears by the time I got home from a short mile. I wanted to call it off. Chris talked me out of it. He reasoned that I had a week left before the race. I could rest it and go for a short run the day before, while already there in Barcelona. If it felt ok, run the race by feel. If it was bad, it was a weekend in Barcelona! So I rested it and did a short shake out the day before the race. And you know what? I would've regretted it so much if I didn't go.
Part of me worries that Barcelona was an edge case. I was averaging roughly 25-30mi/week leading up to the half marathon and I practically took December off. I did, however, do three long runs (longer than 10mi) and a couple of really hard interval sessions in January. Mostly just January.
I guess the weather was nice and I took a lot more days off than usual before race day. But is that really enough to make that much of a difference? Maybe. Perhaps, this is why rest is such a big part of tapering. I have to remember this, because the next time I taper before a race, I'm gonna want to keep running when I should really be resting.