Revisiting speedwork
For someone who runs a lot, I very rarely do speedwork. I haven't had very good luck with my last few attempts and I usually end up with back pain the next day. I kind of figured it was due to overstriding or some other thing associated with bad form.
I'm trying to average about 100 miles (~161 kilometers) per month – a decision I made at the beginning of the year. My legs generally prefer longer distances anyway and I'm definitely much happier with long runs so I figured, why not? And, while balancing speedwork with high mileage isn't exactly the best idea, it will probably help me better plan out my running schedule. It might even keep things more interesting.
This afternoon's run: short intervals. 15 second "sprints" x 10. Map says it all. The 10 different points where the colors gradually change from orange to green/blue shows the parts where I picked up my pace. Not bad eh?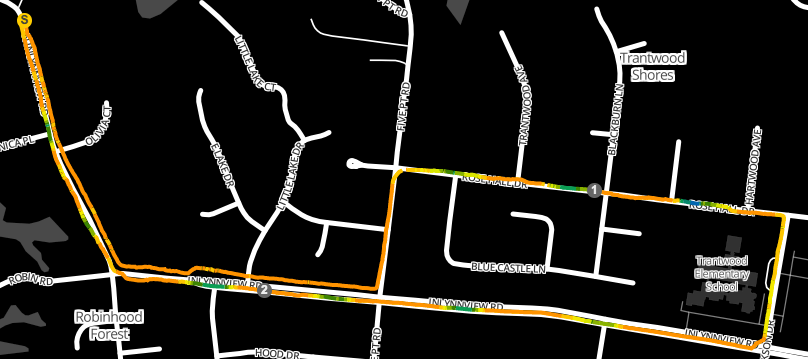 Cadence could have been much better. I barely went over 100spm. Easy run day tomorrow.